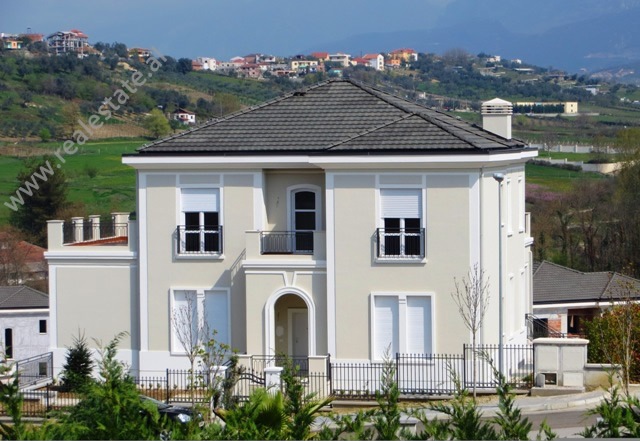 City - Tirana
Area -392+650 m2
Price - 2700 € €
Property type -Villa
Villa for rent in Lunder village in Tirana , Albania (TRR-914-51a)
Villa for rent in Lunder area in Tirana.
It is located in a residential complex with high security with cameras and guard 24 h.
The area of the structure for this villa is 392 m2. The land lot of villa is around 650 m2.
The living area includes:
Ground floor:
Total Area: 163m²
1- Staircases & Hall. 30m2
2- Living room. 30m2
3- Dining room. 17m2
4- Kitchen. 27m2
5- Bedroom. 15m2
6- Bathroom. 6m2
> 7- Toilet. 3m2
8- Entry loggia. 8m2
9- Loggia. 9m2
10- Living room terrace. 18m2

First Floor:
Total Area: 137m²
1- Master bedroom. 18m2
2- Master bathroom. 19m2
3- Walk-in closet. 7m2
4- Bedroom. 22m2
5- Toilet. 7m2
6- Bedroom. 15m2
7- Walk-in closet. 3m2
8- Toliet. 6m2
9- Staircase & hall. 30m2
10- Balcony. 8m2
11- Balcony. 9m2

Basement:
Total Area: 92m²
1- Staircase & Hall 16m2
2- Game room. 26m2
3- Storage 16m2
4- Mechanical room. 10m2
5- Toilet. 4m2
6- Utility room. 10m2
7- Wine cellar. 10 m2

The lot offers the option of a swimming pool but it is up to the client.
It is offered unfurnished but can be furnished for a different price.
The best place to have a good and tranquility stay in Tirana.

Price 2700 €/month
Foto Galeria
Ndaje me miqt� n� facebook!