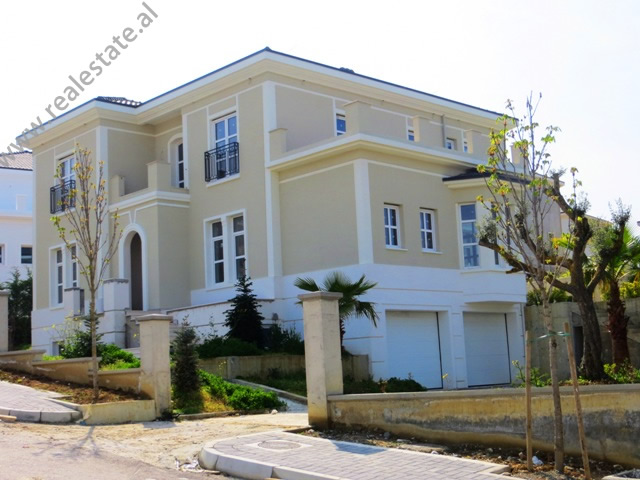 City - Tirana
Area -662 +1000 m2
Price - 4600 € €
Property type -Villa
Luxury villa for rent close to TEG shopping center in Tirana , Albania (TRR-914-56a)
Villa for rent in a residential area in Tirana. 
It is positioned in one of the most prefer villas residence.
The villa has around 662 m2 of living space and 1000 m2 of garden.
The inner space is divided as below:

Ground Floor:
Total Area: 220m²
1- Living room. 41m2
2- Dining room. 21m2
3- Kitchen. 31m2
4- Pantry room. 7m2
5- Studio. 18m2
6- Bathroom. 8m2
7- Entry hall. 13m2
8- Staircase and hall. 16m2
9- Toilet. 4m2
10- Bedroom. 21m2
11- Bathroom. 8m2
12- Entry loggia. 6m2
13- Loggia. 26m2

First Floor:
Total Area: 220m²
1- Master suite. 41m2
2- Master bathroom. 21m2
3- Master walk-in closet. 8m2
4- Staircase and hall. 30m2
5- Bedroom. 22m2
6- Bathroom. 8m2
7- Bedroom. 19m2
8- Bathroom. 8m2
9- Walk-in closet. 2m2
10- Terrace. 26m2
11- Balcony. 5m2
12- Terrace. 30m2

Basement:
Total Area: 222m²
1- Game room. 30m2
2- Wine cellar 11m2
3- Garage. 52m2
4- Toilet. 7m2
5- Mechanical room. 10m2
6- Electric room. 5m2
7- Hall. 27m2
8- Staircase 12m2
9- Utility room. 21m2
10- Game room. 31m2
11- WStorage. 11m2
12- Loggia 5m2

The lot offers the option of a swimming pool but building it is up to the client.
The complex offers also security 24h, parking space.
It is offered unfurnished.

Price 4600 €/month
Foto Galeria
Ndaje me miqt� n� facebook!