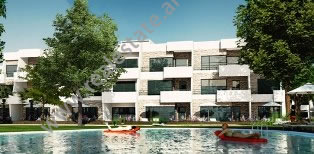 City - Lalzit Bay
Area -27 m2- 100 m2
Price - 1200 €/m2 €
Property type -Apartment
Book now an apartment for sale in the most beautiful Resort in Albania.(GLS-213-1)
Book now an apartment for sale in the most beautiful Resort in Albania.
The resort is located in Lalzit Bay beach.
The buildings and landscaping throughout the resort combine simplicity and elegance to create a wonderful place in which to holiday.
The residential properties have clean geometric lines complemented by glazed elevations, balconies and terraces, which work effortlessly to create the perfect balance between indoor and outdoor living.
The apartments in Phase 1 will be the closest to the beach – just a 2-3 minute walk through landscaped gardens. Phase 1 has 5 identical apartment blocks and each block has 20 apartments over 3 floors.
The vertically tapered design allows as much light into the apartments as possible.
All will be finished to exacting standards of luxury.
These apartments currently on sale are restricted in height to ensure there is a feeling of light and space in and around each apartment bloc.

Foto Galeria
Ndaje me miqt� n� facebook!